Jikiden Reiki Course – Okuden
Learn Jikiden Reiki, the unmodified traditional Japanese Reiki. Jikiden Reiki is the original treatment method from Japan.
After this 2-day course you will be able to treat mental issues and unwanted habits such as fears, behaviour patterns, etc. effectively and sustainably. In addition, you will learn how to treat and support people from a distance.
The course is suitable for treating family members and friends as well as for self-treatment. The course is also suitable as a basic education for young professionals or for personal further training.
Course content Okuden – advanced (10 hours)
Kokai Deju by Mikao Usui Sensei
Reiki Mawashi, perception exercise
Explanation of the second Shirushi (original symbol) for the mental treatment Sei Heki Chiryo
Explanation of the Kototama (original words) and their meaning and application
Jikiden Reiki practice, practising together, mental treatment
Explanation of the Jumon (original formula) for the distance treatment Enkaku Chiryo
Reiki Okuri, perception exercise
Jikiden Reiki practice, practising together, distance treatment for physical symptoms and mental issues
Jikiden Reiki practice, practising together, self-treatment of physical and mental issues
Explanation of all Japanese words used in this course
Conducting of a total of 2 Reiju, energy activation
Presentation of the course certificate
Requirements
For this course the certificate of the basic course Shoden is required
For adults of 18 years and older
Participation on 2 consecutive days
Course documents
Certificate in Japanese calligraphy, issued by the Jikiden Reiki Institute in Kyoto
International certificate (in English and Japanese)
Course pass with course registration
Registration at the Jikiden Reiki Institute in Japan
Publishing of your name on the official Japanese website (if you agree)
Course Language
English
Number of Participants
Small group, min. 2 to max. 6 people
Clothing, Documents
Comfortable clothes and socks
Notepad, writing utensils
Course manual and course pass from the Shoden course
Course time
2 days from 9.30 a.m. to 4 p.m.
Course Location
Sawah Jikiden Reiki Zurich, Thurgauerstrasse 111, first floor, 8152 Glattpark Zurich
Course Rules
The Shirushi (symbol), Kototama, Jumon, the course content and the course manual may not be passed on to third parties or published. Jikiden Reiki Okuden courses are only to be taught by Shihan (teachers) authorised by the Jikiden Reiki Institute in Japan.
My direct Reiki lineage
Mikao Usui > Chujiro Hayashi > Chiyoko Yamaguchi > Tadao Yamaguchi > Karin Birchler
Course Dates – Okuden
The Okuden course will be held in English.
No upcoming classes available.
Please contact us.
2 course days incl. refreshments during break and certificate.
The Okuden course can be repeated at the reduced price of CHF 300.00. For registration, contact me directly by email.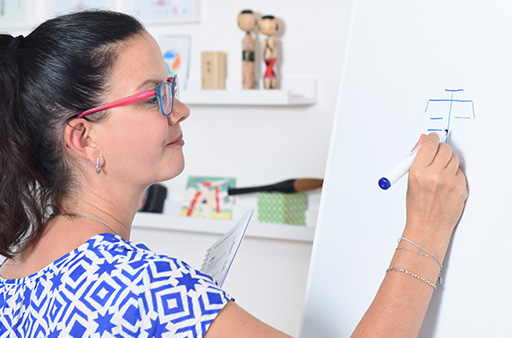 Karin Birchler teaches the Okuden seminar
Reiki course Zurich
The Jikiden Reiki training is divided into two parts: the basic Shoden course for physical symptoms and the advanced Okuden course for mental issues and distance treatment. The courses can be booked together. 22 hours in total.
The Jikiden Reiki training is in accordance with the Swiss EMR Education Regulations 2023.
Certificate in Calligraphy
Upon completion of both courses, Shoden and Okuden, each participant will also receive a certificate in Japanese calligraphy (as in Hayashi's time), issued by the Jikiden Reiki Institute in Kyoto.
Gift for health improvement
The Sawah Jikiden Reiki voucher is a meaningful gift and can be redeemed individually for Reiki treatments or Reiki courses.